Leadership AwakeningTM : Management & Leadership Concepts using Music as a Metaphor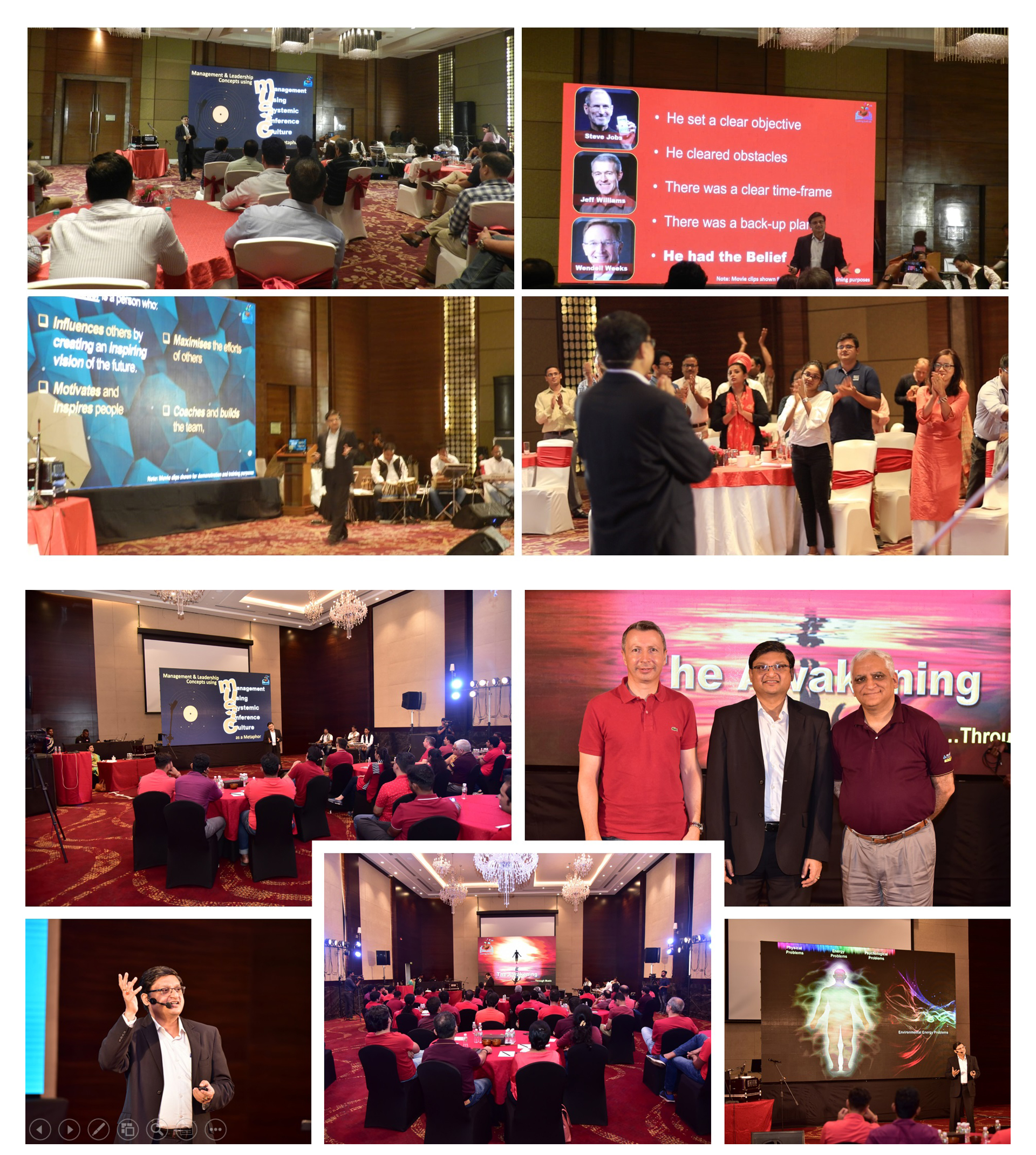 An evolving session with melody and rhythm – the programme is designed to provide business leaders with a new platform for understanding different aspects of management and leadership. Management & Leadership concepts using music as a metaphor program offers an unique insight into how leadership, organizational structures and processes run in the music world and can be used to comprehend several key management and leadership concepts that are strategically and constructively implemented in the business world.
Music and business are both global forces, transcending language, nationality and religious boundaries. The world of music provides many examples of leadership and of people working together to create great achievements and following. Executives and musicians face common challenges at their workplace in dealing with teamwork, change, achieving performance value, competing, innovating and enabling to succeed and excel. Music and musicians offer unique insights - how to listen, communicate and collaborate with team members, use critical thinking, imagination and creativity to solve problems, address diversity and innovate to evolve and remain relevant.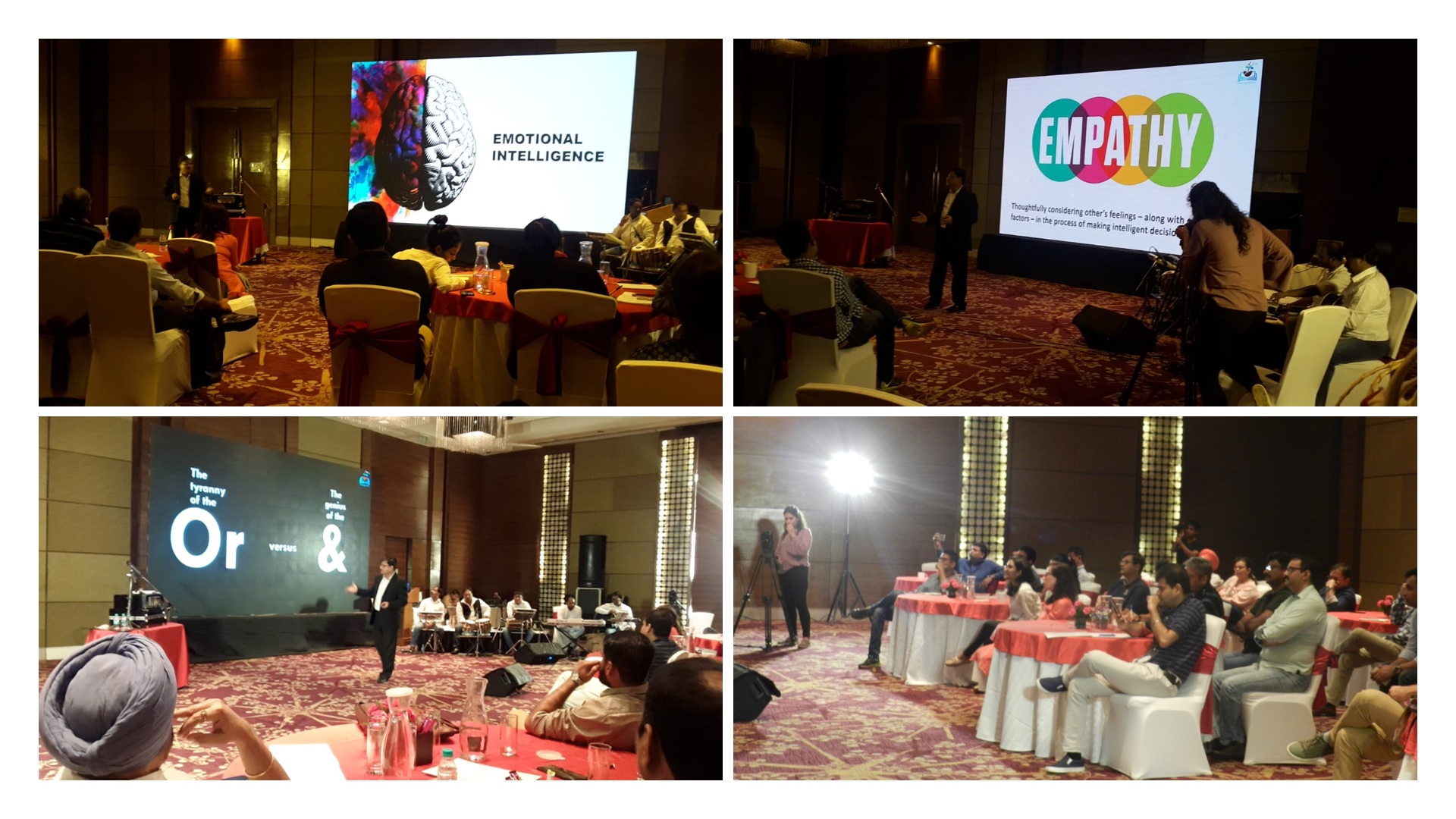 Managerial & leadership concepts demonstration exploring and discovering leadership through the lens of the lead musician and co-musicians, the objective is to trigger the ability to think creatively and critically appraise own leadership style and behavioral patterns and how one can implement lessons learned from this program in ones working environment.... Awakening the inner self with vocal and instrumental fusion of raga and tala.
The course pedagogy
Music demonstration along with Management Lecture
Cases & Exercises
Group Work
Story Telling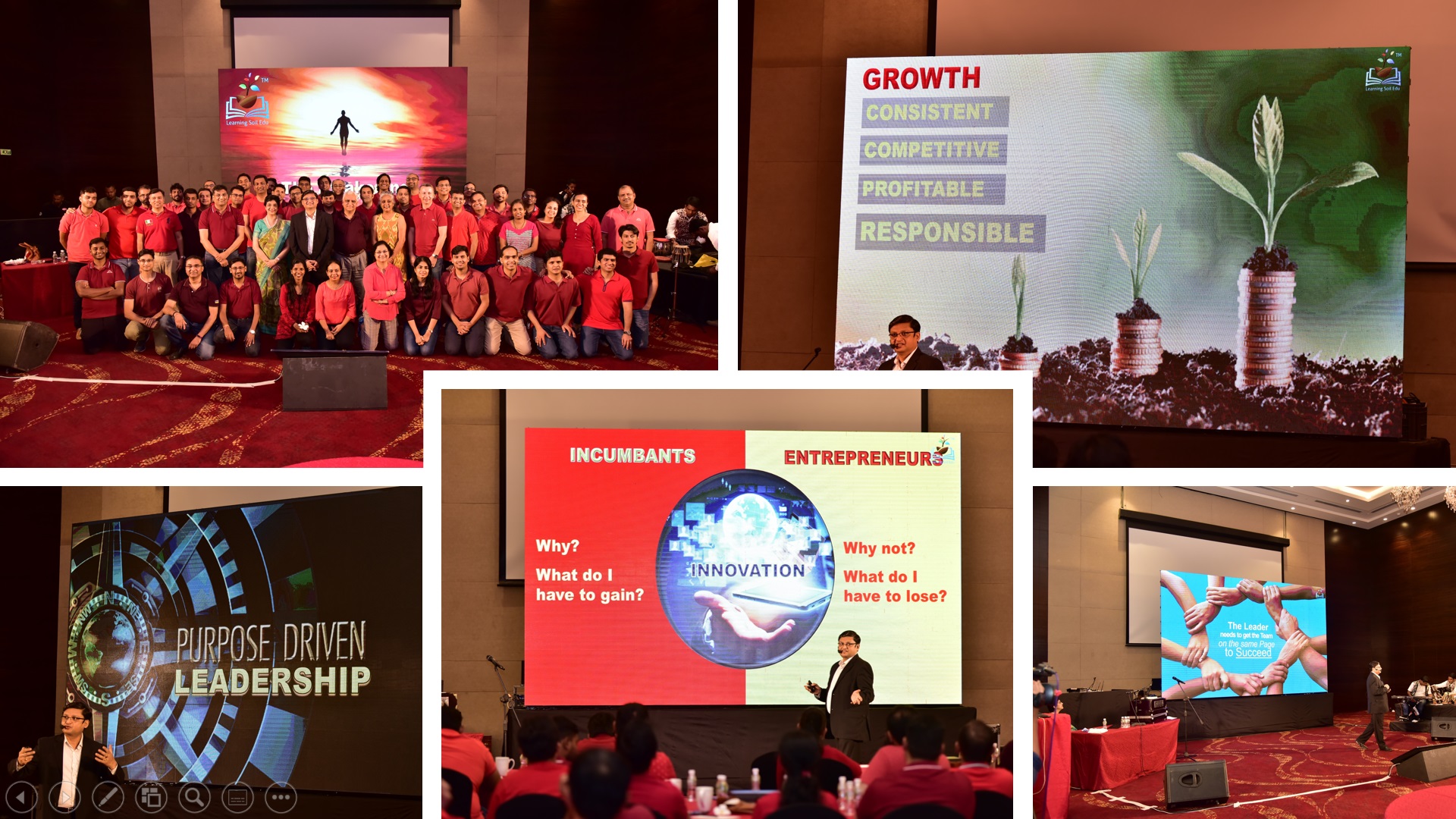 The benefits of using music
Organizational & Personal impact
The pedagogy allows experiential learning of concepts through live demonstration affecting greater absorption and retention
It encourages critical thinking, active problem solving and a shared sense of purpose
It is suitable for all learning styles and across languages and cultures
It packs an emotional "punch" – participants are able to witness their own behaviors and the impact they have
It is highly practical – it focuses on things that can be easily seen, understood and therefore participants are able to identify what behaviors they need to change
Importance of ongoing innovation practice & coaching for a long lasting culture
It helps one to work with teams, groups or individuals
It creates a support for the embedding of skills and culture change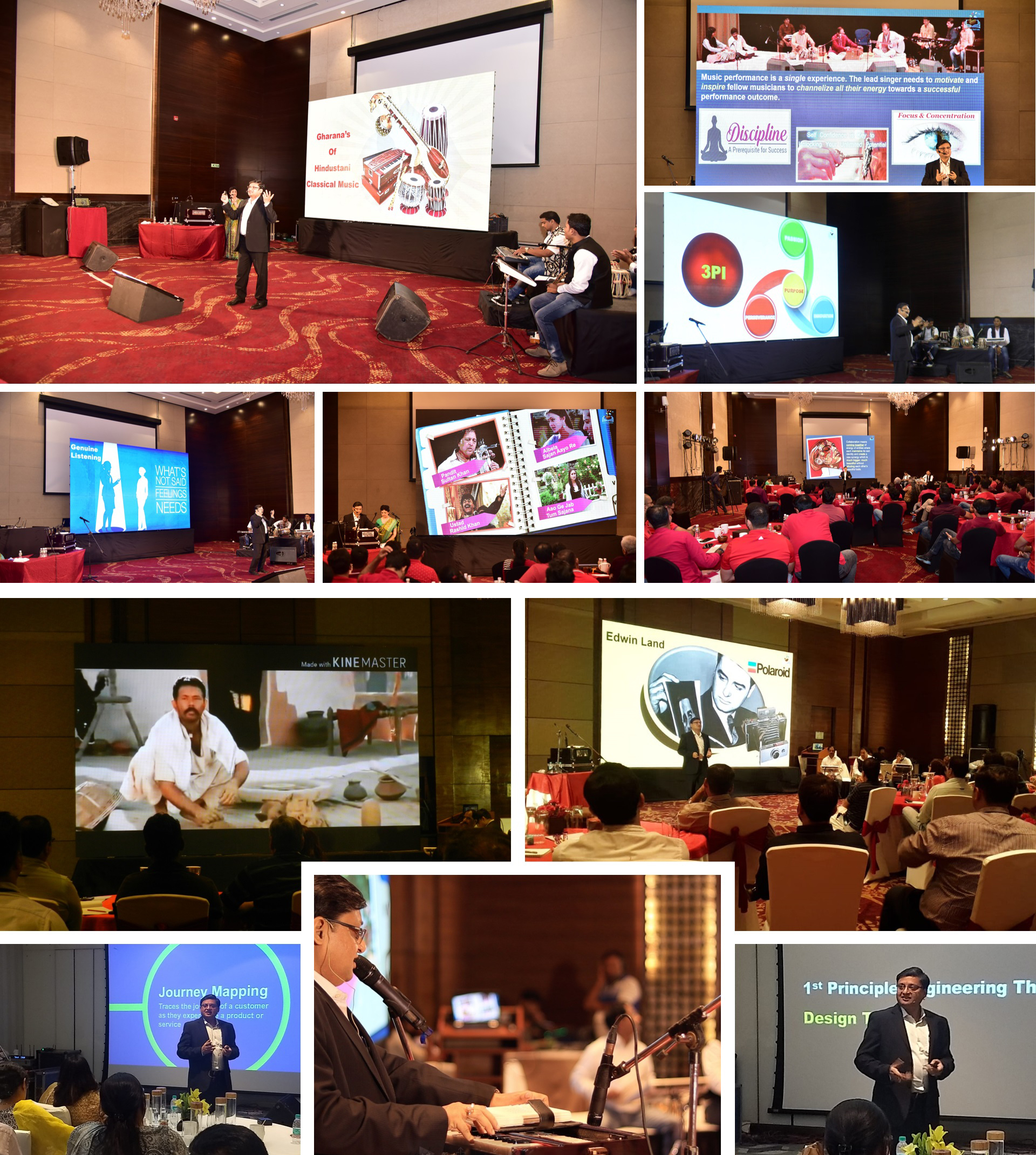 Methodology
The starting point is a behavioral study of all the participants which is done using our own psychometric tool to understand their individual personality parameters basis which we formulate the content of the program so that it addresses the collective development areas of the group. Thus, all our programs are customized basis our own assessment of the needs of the audience and as per specific requirement of the organization as well as the target audience given to us by HR and L&D.
Post the program the psychometric reports are shared with the individual participants. They are then asked to formulate a self-leadership development plan extending over 8 months and submit the same to HR. We have a bi-monthly review of the progress of each participant's self-leadership journey and take them through another psychometric evaluation on the 8th​month and generate their individual Leadership Proficiency Report.
Leadership Proficiency Report: An exhaustive document covering motivator factors, interest factors & deep personality assessment. The Report is tuned to the Indian psychology as it is based on well-researched three decades indigenous data & social conditions that enable to identify the work life conditions in our subcontinent. The psychometric evaluation process enables the institution to position itself as focused to provide professional and scientific career guidance to its employees.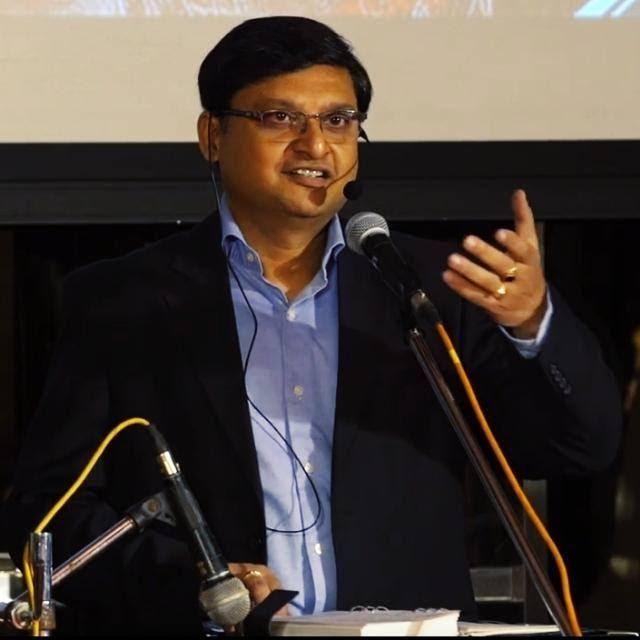 Facilitator
The Awakening is conducted by Shri Arnab Mallik. Arnab is a Statistics graduate from Presidency College, Kolkata and 1990 Alumni from IIM Ahmedabad. He has 27 years of corporate experience in key top leadership roles with Fortune 100 Companies.
Arnab is a leader who has been a keen planner and an astute manager with flair for implementing new systems, streamlining operations, customer relationship management and proactive business planning. He is known for giving sustainable commercial and customer outcomes across a variety of organisations and assignments including scenarios involving, restructuring for growth, under performing business turnarounds and productivity enhancements/efficiencies.
A transformational leader who has ensured a consistent stream of future leaders within the industry to take larger roles over time. Improvement through people empowerment in all business activities is one prominent trait, for which he is known within and outside the industry. He has inspired many personnel towards delivering extra ordinary results.